Q&A Event With Ward 3 and 4 City Council Candidates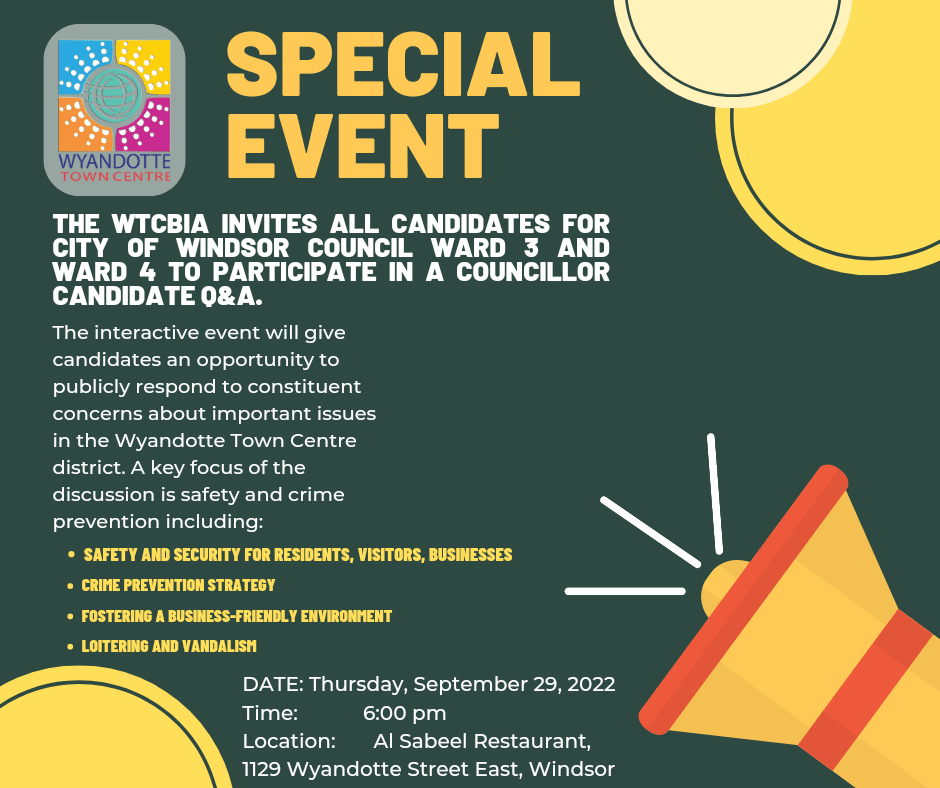 Wyandotte Town Centre BIA Invites
Ward 3 and 4 City Council Candidates to Question and Answer Event
WINDSOR, ONT. – On behalf of the Wyandotte Town Centre BIA, Larry Horwitz, Chair, invites all candidates for City of Windsor Council Ward 3 and Ward 4 to participate in a Councilor Candidate Q&A.
The interactive event will give candidates an opportunity to publicly respond to constituent concerns about important issues in the Wyandotte Town Centre district. A key focus of the discussion is safety and crime prevention including:
Safety and security for residents, visitors, businesses
Crime prevention strategy
Fostering a business-friendly environment
Loitering and vandalism
Candidates, business owners, residents, and members of the general public are invited.
Press Event:
Date:            UPDATED DATE: Thursday, September 29, 2022
Time:            6:00 pm
Location:       Al Sabeel Restaurant, 1129 Wyandotte Street East, Windsor, ON
Contact Information
Larry Horwitz, Chair
Email: [email protected]
Telephone: 519-817-6264
For more information about the Wyandotte Town Centre BIA, please
browse our website.